Tussock Traverse 32km Run/Walk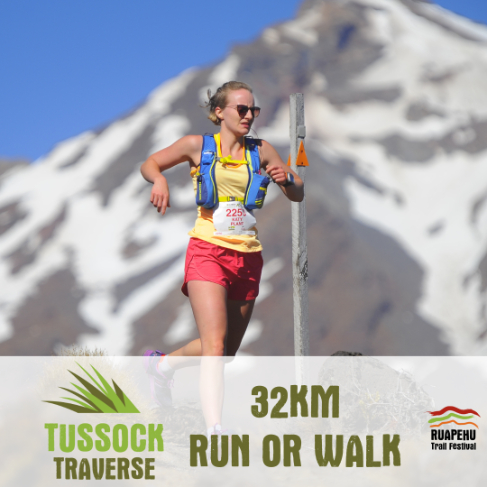 Elevation: 775m up, 700m down
ENTRY FEE TUSSOCK TRAVERSE 32KM RUN OR WALK
Includes a pair of limited edition Steigen Tussock Traverse Socks and finisher medal!
Also includes pre event transport from Iwikau Village to your start line (on Tukino Ski Access Road) and post event transport from your finish line (Chateau Tongariro) back up to Iwikau Village.
SUPER Early Bird
$179.00
14th to 30th June 2022
Early
$199.00
1st July to 31st October 2022
Standard
$209.00
1st November 2022 to 20 February 2023
Late
$219.00
21st February to 10th March 2022
5.40am – 6.25am: late registration officially open inside the Chateau Tongariro
6.40am: final time to be parked up at Carpark 10
6.50am: buses depart Carpark 10
7.11am: sunrise
7.55am: buses arrive in start area
8.15am: start
10.45am: first finisher expected
12.40pm: course cut-off to have left Waihohonu Hut
5.15pm: course cut-off at finish
Minimum Age
Entrants must be 16 years on event day unless an exemption (based on previous performances) is granted by the Race Management team. Requests can be emailed to info@ruapehutrailfestival.co.nz
Compulsory Gear Required
A wind/rainproof jacket, thermal top and thermal beanie, emergency bag (not blanket) and fluid must be carried during the race. We recommend carrying a minimum of 3L.
Check out our sponsors, True Fleece Merino for your thermal long sleeve and beanie!
Tracks Used
Start on Tukino Road, then merge with the 73km and 50km entrants at the Round The Mountain Track junction.  Merge with the 21km entrants near the Waihohonu Hut.  With 3km to go follow the Lower Taranaki Falls Track to the finish.
Terrain
On your journey you'll see true desert landscape features, wind sculptured sands and volcanic rock to Waihohonu stream.  The Waihohonu Hut is the only hut on this section.  Highlights include passing between Mount Ruapehu on your left and Mount Ngauruhoe and Tongariro on your right.  You'll climb to the Tama Saddle before descending homeward on well formed tracks. The final 10km or so are a gentle downhill past the impressive Taranaki Falls and onto the finish line. Overall, the track surface is excellent and the elevation is quite gentle.
Course Cut-Off Times
32km entrants not reaching the Waihohonu Hut (approximately 16.5km from the startline) prior to 12.40pm (4 hours 25 after race start) will be required to exit the event course at the Hut and walk out to the Desert Road with our course crew. The finish line is closed for 32km entrants at 5.15pm ( 9 hours after the start).
Parking and Transport Info Pre Event
All your bus transport needs are included in your event entry fee.
All bus transport to the start of the event is compulsory.
All bus transport departs from the one location at Carpark 10 (near the top of Bruce Road and the Whakapapa Skifield).  Carpark 10 is about a 7 minute drive up the Bruce Road from the Chateau Tongariro. Carpark 10 will be clearly marked. Traffic management and key event staff will be onsite assisting with your arrival and efficient loading onto the buses.  You can view the Carpark 10 map at pre race registration. Please arrive on time. You can't get lost – continue to drive up Bruce Road until you reach Carpark 10.  You need to be at Carpark 10 pre 6.40am to enable smooth boarding.
Gear Check In / Collection Info
Any personal gear (that you don't want to take on course with you) can be dropped into the Gear Bus at the start line.  Any personal gear dropped to the Gear Bus will be available for collection from approx 11.30am at the finish line (exact venue TBC).
Parking and Transport Info Post Event
Post event, a free shuttle will make regular trips from the Chateau Tongariro finish area , 7 minutes up the Bruce road to Carpark 10 for you to collect your vehicle. Shuttle operational from 11.45am – 5.15pm (last trip up).
Thank you to our sponsors!
Top